Hortensia - Mediterranean–style home
Unit Features:
Open-concept living and dining room
Floor-to-ceiling windows
Imported porcelain flooring
Quality hardwood kitchen cabinetry
Granite counters with granite backsplash
Kohler or similar washroom fixtures
All hardwood doors
2-car garage

267.26 sq. m. / 2,876.8 sq. ft.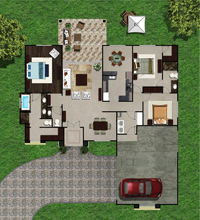 VIEW FLOOR PLANS >
Hortensia is a single-storey Mediterranean-style villa or single-family home. There are three bedrooms, a master with large ensuite and two bedrooms with a shared bathroom. From your backyard terrace, you can enjoy sweeping views of the golf fairways or 360-degree views of the mountains.
For pricing on the Hortensia Mediterranean-style home, contact us today.
Square footage and dimensions are estimated and may vary
in actual construc­tion.