Ave Del Paraiso - Contemporary Home
Unit Features:
Contemporary design
Open-concept dining, kitchen and living room
Floor-to-ceiling windows
Imported porcelain flooring
Quality hardwood kitchen cabinetry
Granite counters with granite backsplash
Kohler or similar washroom fixtures
All hardwood doors
Exterior finish of imported stucco and stone
296.98 sq. m. /3,196.7 sq. ft.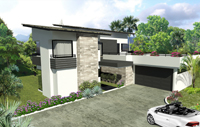 VIEW FLOOR PLANS >
Ave Del Paraiso, a contemporary home option, is located on lots that have been specifically chosen for their views. The home features numerous floor-to-ceiling windows and luxurious finishes. The master bedroom has a walkout on to a wrap-around balcony leading to an upper deck patio from where you can take in this home's stunning views. Alternatively you can have a "greener" option by installing solar panels on the upper deck to reduce your electricity bill.
For pricing on Ave Del Paraiso, contact us today.
Square footage and dimensions are estimated and may vary
in actual construc­tion.